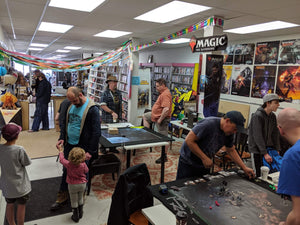 Located in beautiful Sechelt, British Columbia.
Serving the Sunshine Coast and local community with the best games and movies since 2017!
Explore Symetra
Learn More
Explore Wizard's WARdrobe
Learn More
Explore Our In-House Services
From Birthday Parties, to Virtual Reality, Video Rental and In-House Events, Game Point has it all...
Browse our Services
What Customers Are Saying
★★★★★

The only place in the Sunshine Coast where one can properly nerd out, slay dragons, destroy starships, and save the girl!
★★★★★

Great selection of games, dvds, party rental, pay to play games, birthday parties, VR demos and much more
★★★★★

Love this place a lot: owner and manager are well knowledged in a variety of topics and conversational pieces, very friendly and inclusive. Super kid friendly place with lots of game night options for a variety of age ranges, and game consoles to pay to play for a reasonable price, including VR! Would definitely recommend having a visit while you wait around in town.
★★★★★

The best little hobby/nerd store I've been to. I enjoy checking out all I come across, see the board game selection.

The selection here is good, but it's the atmosphere inside that really sells it. A little VR section, a good table for board game night, syrup pumps to make some tasty drinks, hot dog cooker, it's great!

An absolute minimal 3 visit location for any need passing through the area!
★★★★★

Fantastic place for VR game play. It was the highlight of our trip for our +9yr old son trying out a VR game. He said it was epic! Appears to be a gathering place for some group games & offers a fair size library for movie rentals. Smaller shop for video games, board games & other games for anyone +3yrs.